Course Info
In this section, more details about:
The course

Illustration: 2020 schedule and beyond

Who should apply

Illustration: applications process - how it worked for 2019 & 2020 (Cohorts 6-9)

How to get help.
And for more background, you can: :
Click through to the main CHCR website

professional pages

Contact CHCR course manager, Liz Clark (

liz.clark@chcr.org.uk) to arrange an informal chat..
Important notes:
2019 Cohorts (6 & 7) are complete and will graduate in late-March 2020
2020 Cohorts (8&9)

are both now underway and will graduate (provisionally) in March 2021



Updates: t

o

ensure that you receive updates as they are issued please set your

email safe domains

to include @chcr.org.uk

AND

@elearning.chcr.org.uk In some organisations, where there are special Administrator provisions, you may need to request this from your

IT function

.



1. THE COURSE
Commissioned by the UK National Health Service (NHS), the course was designed and developed by the senior CHCR team in collaboration with the communications development group at the NHS Trust Development Authority (now NHS Improvement). It is taught in four intensive residential weeks: three at the University's Missenden Abbey conference centre; and one (Week 3 in each cohort cycle) in collaboration with the Huddersfield Business School. This is intended to provide a partial balance for travel commitments. There are regular appearances by senior guest lecturers/speakers from both the NHS and the wider public and commercial sectors.
The course inverts the conventional process which begins with external communications (e.g. media). It recognises, instead, that at the highest levels in health and social care, effective communications is always founded at the interpersonal level. The PgCert-HC comprises four modules: interpersonal, engagement, leadership and external communications (graphic below).
The four modules (each 15 credits) add up to 60 credits to achieve Level 7 postgraduate certificate status and the post-nomial letters (PgCert-HC). In addition, you can carry forward these credits to achieve the
CIPR Diploma
(CHCR is an Accredited CIPR Teaching Centre) or as the foundation for a full
Master's Degree
. CHCR has established pathways to e.g. the MSc in Strategic Communications at
Queen Margaret University, Edinburgh
.
2. ILLUSTRATION: Schedule 2020 & BEyond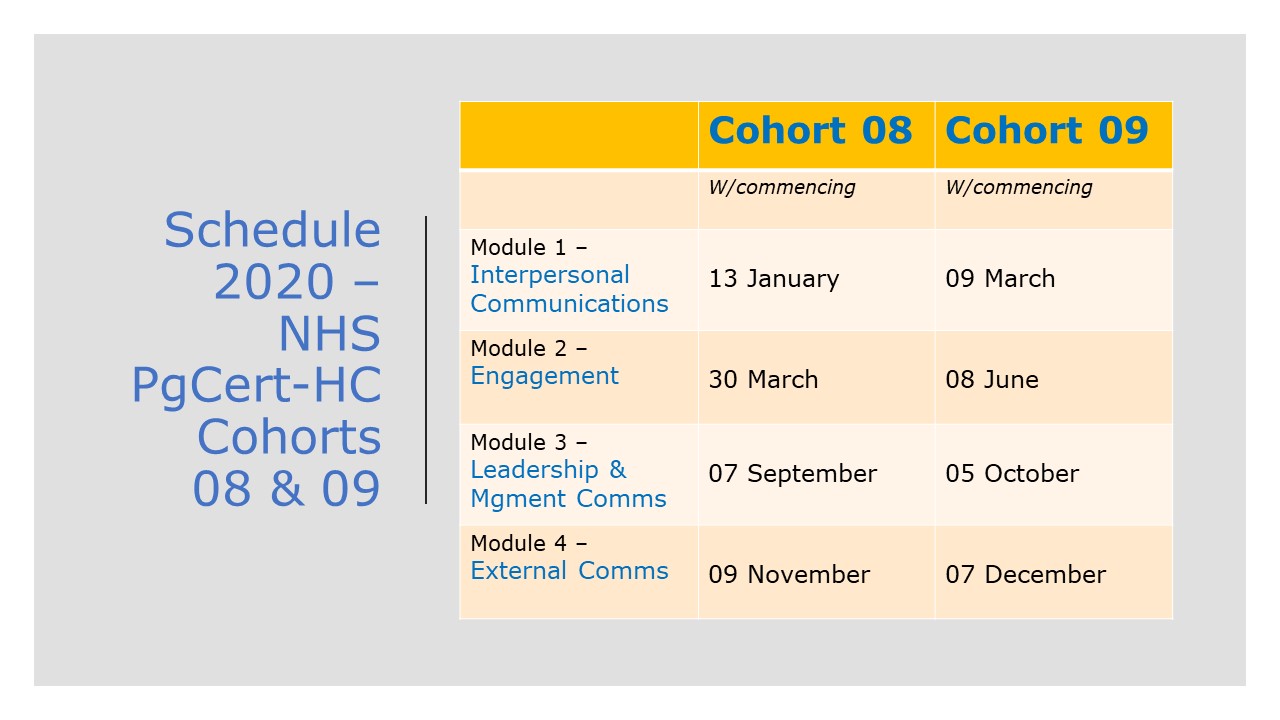 BEYOND 2020: there are as yet (March 2020) no confirmed plans for further cohorts in 2021 and later. If you register your interest on this site, we will log you to the 'Future Courses Folder' and you will receive regular updates as and when information becomes available.
3. Who Should Apply?
The NHS PgCert-HC is designed as a strongly practical course, underpinned by academic rigour and accreditation. Its formal validated University profile for qualifying candidates is:

(NHS) Grade 7 or above

2:1 or higher University degree

Studied a relevant first degree subject. (e.g. communications, PR, marketing, journalism, psychology etc.).
In addition, NHSI/NHSE require that any candidate accepted must be in permanent NHS employment.
BUT:
we recognise absolutely that some strong candidates may possess an
alternative
profile. For example: (
i)
a foundation of equivalent practical experience; and/or
(ii)
a range of alternative executive and professional qualifications. So: we consider each submission
flexibly
in this light and 'alternative' candidates have secured places on previous cohorts. So don't be deterred if you don't - in one way or another - meet the profile.
Additionally please remember that achieving the academic threshold is necessary but
not
sufficient. You will need also to complete satisfactorily the bursary application , funding AND
final interview
with the NHS Programme Head, Alison Brown.
** EQUALITY, DIVERSITY AND INCLUSION **
The principles of equality, diversity and inclusion sit at the heart of everything we do. The NHS Communications Development Programme is committed to developing leaders that are representative of our workforce and the communities we serve. 'We know that diversity and inclusion lead to improved health and greater staff and patient experiences of the NHS; and we welcome the challenge of enabling staff from all backgrounds to develop and excel in their roles' (NHS Leadership Academy)
We encourage applications from Black, Asian and Minority Ethnic communications professionals.
We encourage applications from communications professionals with disabilities.
4. ILLUSTRATION: Applications Process 2019-2020
Here's how it worked for 2019 and 2020: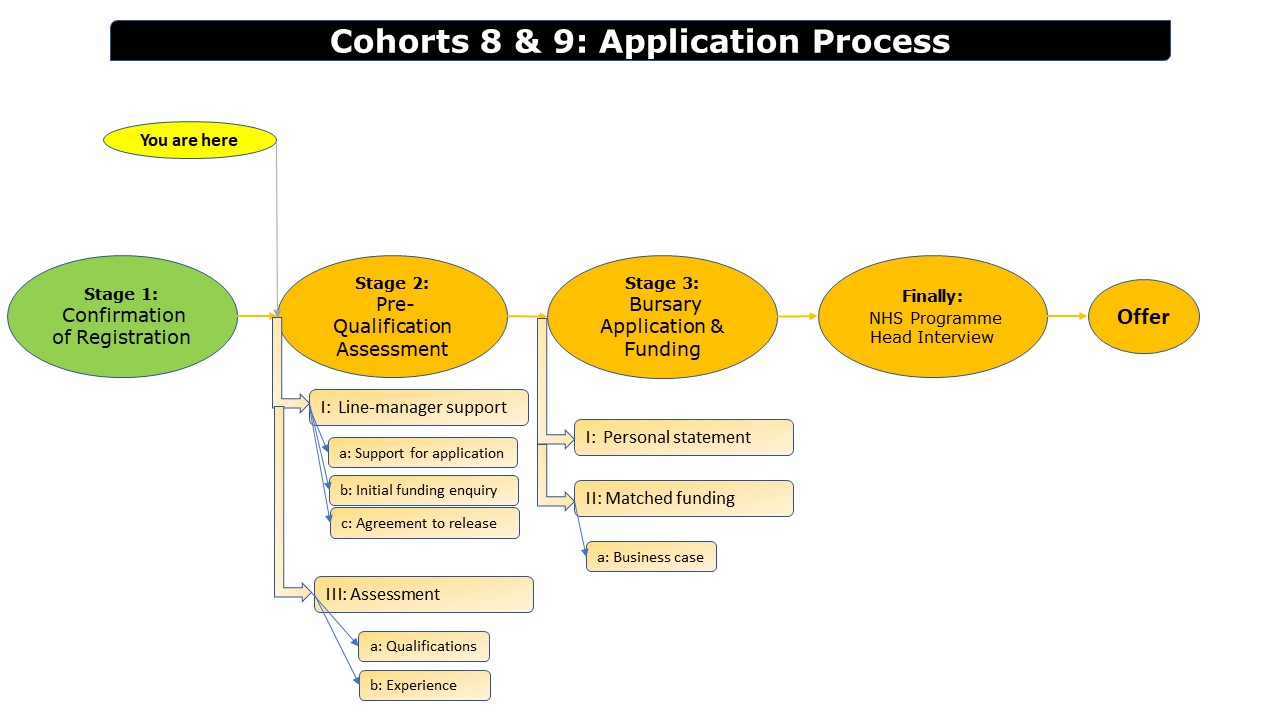 Stage 1 covers Confirmation of Registration

and you

r Profile. This commits you to absolutely nothing. You can, for example, opt to log to a Future Courses folder which will provide details of Cohort 10 and later.

Stage 2

addresses your organisation's support for your application AND academic pre-qualification. Pass that and you move to...
Stage 3 - a special application for an NHSI/NHSE bursary. And finally to...
An interview with NHS Programme Head, Alison Brown.
Thinking about applying in future? Complete your registration and profile. Once accepted, you will receive a confirmation email. Then (i) scroll down to Courses and Activities Available below; (ii) locate '900 Future NHS Courses (Info)'; and (iii) click and enter..There you'll find more info about the course, application process etc. We will update you regularly.. For guidance NHS PgCert-HC Cohorts 010 and 011 are scheduled provisionally for 2021.

5. How To Get Help
If you need help at any stage, don't hesitate to ask:
For an informal chat (or to book a discussion with CHCR's Director or Deputy Director), please contact CHCR's course manager (liz.clark@chcr.org.uk)
If you're having

IT hassle

, please email our IT manager, Chris Finney (

chris.finney@1choice.co.uk

)
Last modified: Wednesday, 4 March 2020, 7:33 AM